HCI Primary Services
Import/Export Management & Global Trade
Export management is a complex job. Making sure that all the bases are covered is crucial to getting your company off the ground successfully and avoiding expensive exporting mistakes. HCI's proven methodologies allow its clients to achieve attractive long-term sales and earnings with far fewer upfront costs than you would incur going it alone.

To insure reliability, HCI's team depends on the use of dozens of Checklists and Action Plans developed by our staff to serve numerous industries around the world.

HCI and its forerunner, Henderson Chemicals, have acted as Project Managers, Agents, Consultants or Export Managers for over forty leading U.S. and foreign companies, including Airco, Akzo Chemie, Bayer, Exxon, Harshaw, ICI, Monsanto, and Sherwin Williams.

HCI's international team of experts provides import and export guidance, global logistics, and on-site training tailored to your business needs. As either an Export Management Company (EMC) or Import Management Company (IMC), HCI acts as an export or import division for its clients. HCI's global strategies are bottom-line oriented and practical, developed through over thirty years of "in the trenches" experience.

HCI's services include:

Industry surveys done directly with foreign buyers and agents, often generating immediate sales opportunities.

Finding and screening optimal agents, distributors, brokers, and partners. HCI's overseas offices will interview 20-50 prospective agents, selecting only the top performers.

HCI's unique Agent/Distributor screening process assures an 80-90% success rate, versus the industry average 30% because 7 of ten agents fail.

HCI's proprietary supply-chain systems, which offer 'Customer-Direct Sales' programs, giving you direct control of buyer relationships.

Detailed action plans with step-by-step directives for every phase of your export operation to eliminate classic missteps and losses.

Agent Performance Systems which achieve better than 50% increase in agents' sales.

HCI's proven Export Launch Program, developed through 34 years of practical experience, optimizes export results and minimizes costs.

HCI's Export Launch Program, which uses Critical Success Factors that we've identified during 50 major industry studies, to realistically evaluate the market opportunities for your products.
The Export Launch Program includes:

Identifying the best potential customers, sales channels and sales leads.
Determining approximate potential sales volume in the foreign market.
Selecting the best agents and distributors.
Pinpointing your key entry points and niches in the Target Market.
Analyzing the current competition in Targeted Niches.
Creating strategies that insure solid profits and healthy market share.
Analyzing current and projected political and economic climate.
Identifying principal cost and risk factors in the Target Market.
Analyzing logistical and operational needs.
Identifying duties, regulations and other restraints to trade.
Success Story:
Within 6 months of launching Henderson Chemicals Del Peru, a Peruvian chemical distribution business, the firm captured over a 65% market share of the country's polypropylene market. The competition included DuPont, Exxon, and Union Carbide.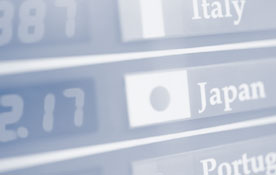 "...it is my pleasure to recommend HCI Corporation for its outstanding accomplishments as a provider of international trade services to Virginia. Known for its results-oriented performance, HCI has been able to find, establish, and manage some of the finest Mexican partnerships for its clients.

George Allen, Governor of Virginia